Description

WELCOME TO THE SALISBURY MARYLAND FREECYCLE GROUP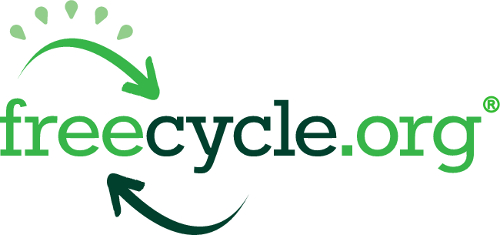 The Freecycle Network is open to all who want to "recycle" that special something rather than throw it away.

Whether it's a chair, a fax machine, piano or an old door, feel free to post it.
Or maybe you're looking to acquire something yourself.
Either way -- you can post it!!!


Our mission is to build a worldwide gifting movement that reduces waste, saves precious resources eases the burden on our landfills while enabling our members to benefit from the strength of a larger community.
Post your items here so they can find new homes with someone who can use them. We encourage all members to be active in the group. While there is no requirement, members are asked to keep their group activity balanced, by placing Offers as well as Wanted posts.
Our Thanks To You For Keeping Our Landfills From Overflowing,
Bob,
Owner
Michelle,
Moderator
Christine,
Moderator

------------------------------------------------------------------------------------------
Copyright 2003 The Freecycle Network (http://www.Freecycle.org).
All rights reserved.
Freecycle and the Freecycle logo are registered trademarks of the Freecycle Network.
-----------------------------------------------------------------------------------------
Message History
| | Jan | Feb | Mar | Apr | May | Jun | Jul | Aug | Sep | Oct | Nov | Dec |
| --- | --- | --- | --- | --- | --- | --- | --- | --- | --- | --- | --- | --- |
| 2013 | 504 | 306 | 307 | 391 | 236 | | | | | | | |
| 2012 | 495 | 339 | 410 | 354 | 448 | 406 | 327 | 399 | 340 | 333 | 304 | 361 |
| 2011 | 572 | 493 | 534 | 456 | 599 | 454 | 566 | 493 | 524 | 535 | 500 | 528 |
| 2010 | 807 | 474 | 747 | 612 | 526 | 626 | 671 | 692 | 603 | 555 | 581 | 492 |
| 2009 | 1273 | 974 | 832 | 897 | 755 | 823 | 932 | 1035 | 888 | 1084 | 942 | 804 |
| 2008 | 713 | 606 | 917 | 851 | 887 | 985 | 1339 | 1339 | 1226 | 1257 | 1105 | 1174 |
| 2007 | 611 | 374 | 426 | 498 | 594 | 498 | 622 | 502 | 522 | 523 | 711 | 404 |
| 2006 | 325 | 189 | 289 | 321 | 492 | 456 | 350 | 330 | 333 | 430 | 440 | 400 |
| 2005 | 196 | 185 | 216 | 158 | 145 | 189 | 168 | 226 | 222 | 252 | 188 | 173 |
| 2004 | | | | | 6 | 36 | 43 | 92 | 133 | 130 | 138 | 172 |
Post message:
SalisburyFreecycle@yahoogroups.com
Subscribe:
SalisburyFreecycle-subscribe@yahoogroups.com
Unsubscribe:
SalisburyFreecycle-unsubscribe@yahoogroups.com
List owner:
SalisburyFreecycle-owner@yahoogroups.com